Meet The Team at The Vista
Meet The Team at The Vista
Thursday, May 27, 2021, 12:00 pm - 1:00 pm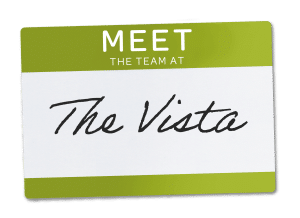 By now, you have heard about The Vista, the premier Continuing Care Retirement Community in northern New Jersey.
But, you may have questions about The Vista lifestyle: what are the culinary options? What clubs will there be? What types of fitness classes will be offered? What amenities will be open this summer? What services are included in the monthly fee? What COVID-19 safety measures are in place?
For answers to these questions and many more, please join The Vista for a virtual Meet-the-Team event. During this live Zoom event, key team members from The Vista will discuss areas of expertise they will bring to The Vista. From dining to maintenance to wellness, you will be able to hear the vision of what life at The Vista will be like.
This is a great opportunity to get to know the team at The Vista … including some of your future neighbors! Don't miss this special event.