Discover the rewards of a Vantage Club membership.
Exciting things are happening at The Vista
As a result of the continuing and successful response to The Vista, we have recently been able to commence project work on our main campus, and initial site work is already underway. You may have already noticed that the old gas station at the corner of Sicomac and Cedar Hill avenues has been demolished, and a new traffic light is coming up soon. This new intersection will be The Vista community's very own road entryway.
Here's more exciting news for you: Receive low, pre-construction pricing and, for a limited time, discounts for Life Care contract options when you deposit before December 31, 2018. As an added incentive, we've lowered the deposit cancellation fee to only $500 up until the date you move in (plus interest). Your deposit also entitles you to become a Vantage Club member offering many other valuable benefits.
With a very limited number of apartment homes left, securing a reservation today is essential to your future at The Vista. Since groundbreaking is just around the corner, we don't want you to miss out on this low-risk, limited-time opportunity to select your favorite apartment location and benefit from our extraordinary, pre-construction savings and Vantage Club membership benefits.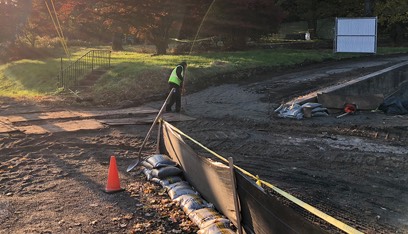 Why wait? Take the step towards securing your future. The deadline to save is fast approaching. Please call The Vista sales office today at (201) 848-4200 to take advantage of this unique opportunity before the special incentives expire on December 31, 2018.
The exceptional benefits of Vantage Club membership include:
Locking in the best pre-construction pricing

Priority selection of your new apartment home

Choice of contract options including a $25,000 discount for Life Care

$200 off Life Care monthly fees

Opportunities to customize your new apartment home, including one free upgrade selection valued at up to $3,500

A $2,500 credit toward your move

Opportunity to choose your underground parking space

Priority access to on-campus health care

Care coordination at Christian Health Care Center (CHCC) before move in

If your health changes prior to The Vista's construction completion, you will be assured the opportunity to move to CHCC, at the appropriate level of living, with the benefits of the contract you select
Limited availability, great benefits. Join the Vantage Club today!
To take advantage of The Vista's limited-time, pre-construction pricing and Vantage Club membership incentives, call The Vista today at (201) 848-4200 or email to make an appointment and select your floor plan.
Click through the photo gallery below to view some of the recent Vantage Club member events.