Margot and Dick Badenhausen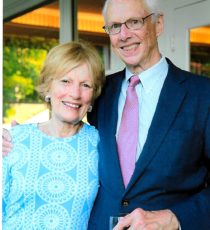 Moving wasn't on the agenda when Margot and Dick Badenhausen first heard about Christian Health Care Center's (CHCC) plans to develop The Vista. A few inclement weather events and home challenges later, the perspective changed for the Franklin Lakes couple.
"When we first heard about The Vista, we supported the project, but we hadn't considered a move. We weren't ready," says Mrs. Badenhausen, a genealogist. "Now, after several storm cleanups, snow plowing, and other household repairs, we are ready to have someone else tackle those responsibilities. And although we regularly travel to Vermont to ski and snowshoe, the day will come when those trips might not be possible. I'm sure at that point we will really be glad that we are living at The Vista."
The Vista is a Life Plan Community, also known as a Continuing Care Retirement Community, coming soon to CHCC in Wyckoff/Hawthorne. Designed for active, independent adults 62 and better, The Vista will offer a maintenance-free lifestyle and feature up to 199 spacious, one-level apartments with 19 different floor plans ranging from 845 to 1,535 square feet.
"We have lived in Franklin Lakes for more than 50 years, and although we never have needed to utilize the many services offered by Christian Health Care Center, we have visited friends who were there for short-term rehab, and we are aware of other ways that the Center serves the community," says Mr. Badenhausen, an avid photographer who was in the construction and real estate industries.
The community at The Vista will be intimate in scale. Residents will enjoy abundant amenities with features including three dining options – fine-dining, casual café, and pub-style fare; a state-of-the-art fitness center; aquatic center; spa and salon services; Cultural Arts Center; library; social events; educational programs; walking trails; and covered parking.
"What we are looking forward to the most about living at The Vista is the ease of socializing with friends new and old," Mrs. Badenhausen says.
Although The Vista isn't built yet, the community is already forming, thanks to the Vantage Club. Members like the Badenhausens have made a 10-percent deposit in advance of the anticipated opening and locked into pre-construction pricing. They are invited to special events designed so they can get to know their neighbors-to-be, provide input on design, and be kept up-to-date on progress.
"Many of our more popular floor plans are either sold out or close to being sold out. Low pre-construction pricing is still being offered, and for a limited time, discounts are being offered
for Life Care options. Securing a reservation today is essential to a future at The Vista," says Douglas A. Struyk, CPA, LNHA, CHCC President and CEO.