7 Fabulous Floor Plans to Choose from in an Independent Living Retirement Community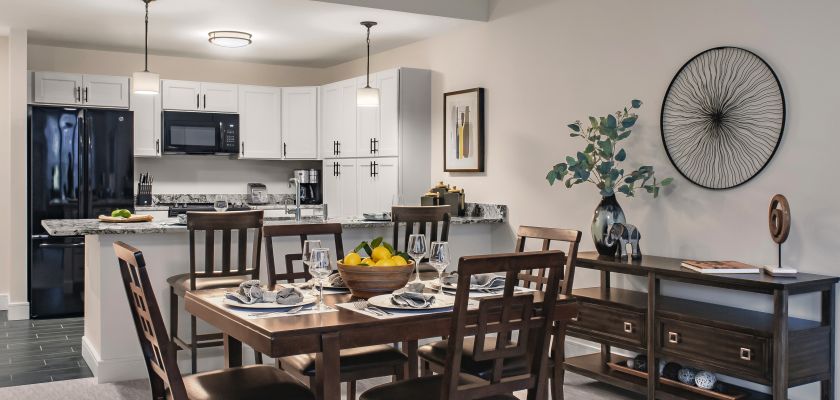 The Vista offers plenty of independent living floor plans for those looking for a new home with open layouts and modern amenities in a maintenance-free apartment.
Our one-, two-, and three-bedroom apartments all offer a full kitchen, a washer and dryer, and light cascading in through the windows. With many layouts to choose from, you're bound to find the one that suits you best.
1. 1-Bedroom Floor Plan — The Cassatt (940 Square Feet)
The Cassatt apartment offers an efficient floor plan where you walk in through the kitchen and into the living room before heading into the bedroom. This apartment style offers one-and-a-half private bathrooms.
2. 1-Bedroom with a Den Floor Plan — The Longfellow (1,200 Square Feet)
If you're looking for some extra space, there's The Longfellow. This apartment style offers residents some added leg room in their new den where they can entertain family and friends. Your new bedroom is next to the main living area and the kitchen that's right next to the den. There are two full bathrooms — one right off the living area and the other next to the bedroom.
3. 2-Bedroom Floor Plan — The Rembrandt (1,265 Square Feet)
Each bedroom in The Rembrandt apartment is located on either side of the living area, where the kitchen opens into the living room. The two bathrooms are located just off each bedroom.
4. 2-Bedroom with Den Floor Plan — The Wyeth 2202 (2,255 Square Feet)
Our Wyeth apartments come with several layouts, including this two-bedroom option featuring a den and plenty of room. This new home comes with three private bathrooms.
5.  3-Bedroom Floor Plan — The Wyeth 1126 (2,507 Square Feet)
This spacious apartment choice offers the maximum number of bedrooms located just steps from the den and the full kitchen. There are also three private bathrooms.
6. 3-Bedroom Floor Plan — The Wyeth 2108 (2,626 Square Feet)
This Wyeth floor plan offers three bathrooms that are located next to each of the bedrooms. Enter through the kitchen and into the living area where light shines through the windows.
7. 3-Bedroom Floor Plan — The Wyeth 4205 (2,395 Square Feet)
Enjoy the view as you stroll in your front door of this apartment through the spacious living area that flows right into the full kitchen where you can cook dinner or grab a snack. With a den and three bathrooms, this apartment offers plenty of room for your active lifestyle.
Regardless of which apartment style you choose, the Vista will provide you a comfortable home in a community with lots of activities, fine dining crafted from local ingredients, and state-of-the-art fitness equipment at our Bergen County campus with views of the Ramapo Mountains outside New York City. Take a virtual tour at this link or call us to arrange an in-person visit.
Contact us to learn more
The Vista offers so much more for residents. Learn more by reaching out to us directly at (201) 848-4200. Fill out our form and one of our residency counselors will reach out to you. You can also provide your contact information at this link.