Activities at The Vista: 'Everything a Resident Could Ask For' in a CCRC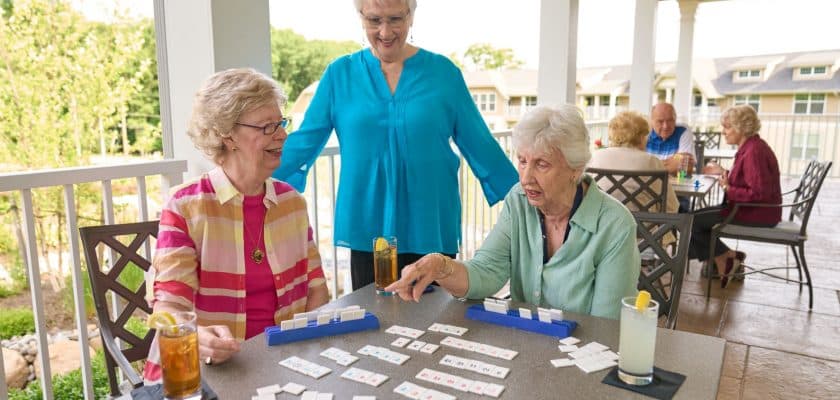 The Vista, a premier continuing care retirement community in northern New Jersey, offers a wide range of amenities for its residents. In addition to beautiful apartment homes, on-site dining, and breathtaking views, The Vista boasts a versatile and extensive schedule of classes, programs, and activities designed to engage, entertain, and inspire.
Ellen DeBel, Wellness Coordinator, and Teela Ferriola, Resident Services Coordinator, have hosted almost 2,000 events for residents to attend at The Vista! All events and activities are posted on an app called Wellzesta, where The Vista residents can register their attendance and reserve their spot. They are also able to provide a rating for each event.
"The Vista offers a wide variety of activities and events in wellness categories that include emotional, environmental, intellectual, physical, social, spiritual, and vocational," said Teela. "Not only do we host a large quantity of diverse programs for our residents to choose from, but I like to make sure these events are of high quality as well. When planning for future programs, I am sure to listen to the residents' feedback and also monitor our residents' star ratings from each event on the Wellzesta app."
Something for Everyone
The Vista also has an events committee – a group of residents who provide Teela with direct feedback from The Vista community on what types of activities, classes, or outing destinations they'd like to see on the schedule. Feedback is often glowing: many Vista residents consider the extensive activities available a major plus of living in the CCRC and rate events on the Wellzesta app an average of 4.8 out of 5 stars.
"Teela has created a program filled with everything a resident could ask for to keep them entertained, informed, and exploring new avenues of interest," said Jeanne Kelly, Chair of the Events Committee at The Vista. "She is open to new ideas and always shows that she wants to try new options that a resident may suggest."
The Vista has something for everyone, and residents are certainly never bored in the community.
Fit and Fun
Staying healthy and active is an important part of any older adult's routine. The Vista offers multiple exercise classes and physical activities for adults with varying levels of mobility, including:
Morning Moves, a 30-minute group exercise class that incorporates simple seated and standing movement
Chair Yoga and Chair-ercise, which help older adults with less mobility stay flexible and active
Circuit Training, a full-body workout that combines aerobic and strengthening exercises in a dynamic, rotating style to target different muscle groups
Aqua-cise, a gentle, body-weight-supported strength-and-conditioning class, perfect for older adults
Meditation, a guided practice of mindfulness techniques to help restore balance and harmony
Walking Group, an organized 20-minute jaunt around the grounds or through the hallways
Brain Games and Creative Classes
Keeping your mind engaged as you age is a great way to stay sharp and ward off memory loss. Residents of the Vista can choose from a diverse schedule of brain-stimulating games of strategy, such as bridge, mahjong, rummikub, and canasta. For the creative soul, arts and crafts, knitting, paint-and-sip events, and even improv classes are offered.
Social Gatherings
One of the greatest perks of moving into a continuing care retirement community is the opportunity to socialize with other residents and enjoy group activities. The Vista offers a variety of social activities and group gatherings for residents to enjoy, including:
Book Club, where residents read books provided by the Wyckoff library and join together with the reference librarian for meaningful discussion
Happy Hour, a time to meet, mingle, and share cocktails and light fare at The Vista's gathering place, The Windmill
Game Night, a fun and interactive evening of trivia
Scheduled group outings, such as trips to local restaurants, botanical gardens, art galleries, and shopping centers
Taking the Stage
One of The Vista's most impressive features is the Performing Arts Center, where residents can attend numerous performances and events, including various lectures and presentations, live music and comedy acts, magic shows, and movie screenings. Residents can also enjoy interactive virtual travel events, where they will join a tour guide to explore exotic destinations around the world and hear interesting facts without having to leave the comfort of a beautiful theater.
Interested in learning more about life at The Vista?
If you are considering a move to a CCRC in New Jersey, The Vista might be right for you. Learn more about us by calling (201) 848-4200 or providing your contact information using our quick and easy form.