The Best Things to do in New Jersey with Grandchildren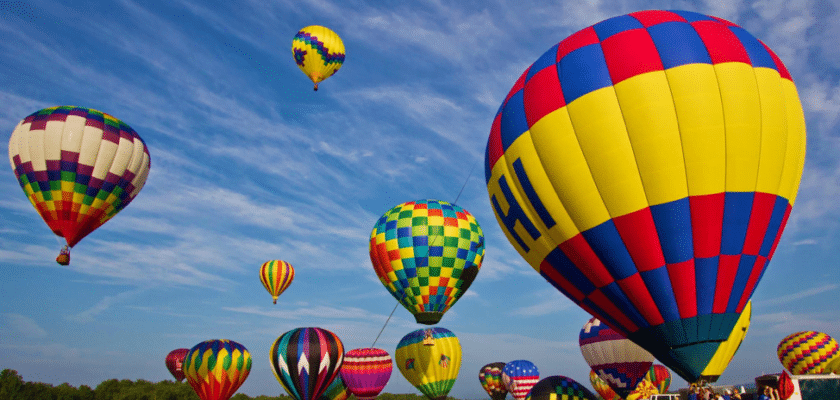 If you retire in New Jersey, and you have grandchildren that are coming to visit, you can easily find a fun activity that everyone will enjoy, no matter how old the little ones are. Even though New Jersey is one of the country's smallest states, it's jam-packed with things to do from top to bottom, all year long.
Below are is our list of top things to do in New Jersey with grandchildren in each season of the year—even on rainy days!
Spring Activities
Hackettstown Spring Festival
The Hackettstown Spring Festival is a great way for you and your grandchildren to get outside to welcome the warm spring air. If you're more of a thrill seeker, you can take a spin on a number of amusement park rides. If rides aren't your thing, you'll love exploring all of the food and vendor tents from local restaurants and businesses.
This year, the festival is hosted on and is free to attend. However, you can buy ride tickets in advance to avoid waiting in lines at the festival.
Hoboken Spring Arts & Music Festival
The Spring Arts and Music Festival in Hoboken, NJ has something for everyone in the family to enjoy. The festival features:
Artwork from local artist including oil paintings, watercolors, acrylics, sculpture, and photography
Children's activities like face painting, sand art, and balloon animals
Crafter's displays featuring pottery, metalwork, wood items, furniture, blown & fused glass, quilts, and more
Food from local restaurants with cuisine from all over the world
Live music from a variety of special artists
Admission to the festival is free and is hosted on May 6th this year.
Summer Activities
Festival of Ballooning
Ranked as a top 100 festival in North America by the American Bus Association, the Festival of Ballooning is an event that you and your grandchildren will enjoy. The festival is held in Readington, NJ, and is the largest summertime hot air balloon and music festival in North America.
Event activities include balloon rides, concerts, food from local vendors, fireworks, amusement park rides, a 5K race, and even a sunrise Yoga and Jazzercise event for those early risers.
The festival is held on July 27th – 29th this year, and you can buy tickets in advance and at the gate during the event.  They offer great discounts if you buy your tickets in advance though, so buy them now so your whole family can enjoy the balloons at a reasonable price.
Adult General Admission Tickets:
Early Bird Saver (until June 25th at midnight): $24 (31% off)
Super Saver (June 26th – July 25th at midnight): $30 (14% off)
Gate (July 26th, 27th, 28th, and 29th): $35
Child General Admission Tickets: (ages 4-12)
Early Bird Saver (until June 25th at midnight): $10 (33% off)
Super Saver (June 26th – July 25th at midnight): $12 (20% off)
Gate (July 26th, 27th, 28th, and 29th): $15
Sussex County Sunflower Maze
With over 23 varieties of flowers, the Sussex County Sunflower Maze is a beautiful spectacle that will make you wish it was around all year long. The maze typically opens in August each year and costs $8 for adults and $5 for children.
The sunflower maze is a perfect place to spend a summer afternoon while you and your grandchildren explore the wonders of the maze surrounded by the vibrant colors of the sunflowers. Be sure to bring your camera! A summer afternoon spent at the Sussex County Sunflower Maze is a memory you'll want to cherish forever.
New York Jets Training Camp
For those grandchildren that live and breathe sports, the New York Jets Training Camp is the perfect summertime activity. Enjoy a day of watching professional football players prepare for the upcoming NFL season as they work through their drills and scrimmages.
This is the perfect place to get pictures with all of your favorite Jets players and to ask them for an autograph, so make sure you bring a pen and camera!
Training Camp typically begins in the middle of July and is held at the Atlantic Health Jets Training Center in Florham Park, NJ. Admission to Training Camp is free, but you need to register for tickets ahead of time.
Fall Activities
Apple picking at Demarest Farms
Apple picking season kicks off at Demarest Farms on September 1st and is a great way to spend a fall afternoon. The orchards at Demarest Farms are known for having spectacular views, and you'll have 14 varieties of delicious apples to (literally) pick from.
If that's not enough to convince you to head to Demarest Farms this fall, they also offer tractor-pulled hay wagon rides, a petting zoo where you can interact with and feed farm animals, and fresh products from the farm like honey, fresh pressed apple cider, apple cider donuts, homemade apple butter, and fresh preserves.
General admission costs $5 per person (age 2 and over), which includes free parking, entrance to the orchard, hay wagon ride, petting zoo, and access to their picnic area with tables; plus $10 for a bag to hold the apples that you pick!
Whippany Railway Museum Pumpkin Festival
Enjoy a fall afternoon of trains and pumpkins at the Whippany Railway Museum Pumpkin Festival located in the Whippanong Valley of Morris County, New Jersey. This fall festival offers train rides, a Halloween arts and crafts exhibit and vendor display, and other great fall and Halloween-themed activities.
The biggest attraction of the event is the train ride aboard the Pumpkinliner train, which takes you on an excursion along the route of the Historic "Whippanong Trail". Choose to ride in the antique caboose or the fully restored 1927-era Central Railroad of New Jersey club car, the "Jersey Coast".  Rides in the caboose are $11 for children and $16 for adults, and the Jersey Coast car is $14 for children and $19 for adults.
The festival is Sunday, October 7th this year. Trains depart at 12:30PM, 1:15PM, 2:00PM, 2:45PM, 3:30PM, 4:15PM, and 5:00PM.
Winter Activities
Skiing at Campgaw Mountain
Hit the trails with your grandchildren this winter at Campgaw Mountain in Mahwah, NJ. While it might not be the biggest mountain to ski down, it's a great place to go if you have grandkids who are still beginner skiers. With 13 different trails to ski, this mountain offers a fun experience for skiers of all skill levels. The difficulty of the trails at Campgaw Mountain include:
2 double black diamonds – most difficult, expert skiers only
3 black diamonds – very difficult
4 blue squares – medium difficulty
4 green circles – lowest difficulty
If skiing doesn't interest you or your grandchildren, spend the afternoon tubing! It's all the fun and thrills of tubing at your local park, but at Campgaw Mountain you effortlessly ride back up the hill on the lift.
The price of lift passes will vary depending on the time of day and the day of the week that you go. However, compared to most ski resorts, these lift ticket prices are extremely reasonable, even at peak times during the weekend.
Ice Skating at Clary Anderson Arena
Located in Montclair, NJ, the Clary Anderson Arena is the perfect place for you and your grandchildren to enjoy an active afternoon of ice skating. The area offers public skating sessions each day of the week and is $6 per person, they also offer skate rentals for $4.
If this is your grandchild's first-time ice skating and the live nearby, Clary Anderson Arena offers skating lessons and is a great opportunity to get some more quality time with the grandkids. All classes meet once a week and include a 30-minute lesson and a public skate session to practice.
Get Out and Explore all the Things to do in New Jersey with Your Grandchildren!
This list of activities and events only scratches the surface of all the things to do in New Jersey. If you think we've left out must-have activity on our list, let us know! We're always looking for new places to explore.
Looking to retire in New Jersey where you have all of these activities at your fingertips? As you look towards retirement, consider The Vista, a Continuing Care Retirement Community. The Vista will offer a range of programs and amenities to engage, entertain, and inspire you.
For more information about The Vista, please contact us today.