Enjoying Festivities and Holiday Traditions in Your New Home at a CCRC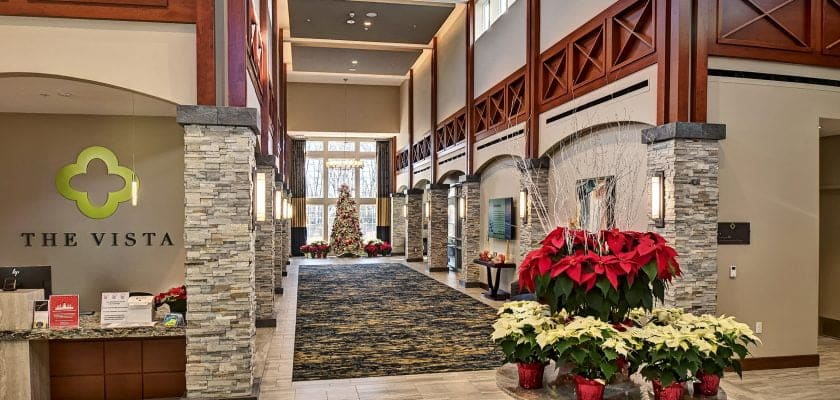 If you are making the decision to move into a CCRC, there are a lot of reasons to be excited. Entering a new chapter in your life means many thrilling changes, including a beautiful new home, new friends, and new traditions. While you may worry at first about how you will adapt to all these changes, especially during the holidays, you can easily adopt new festive rituals and still enjoy your beloved old ones in your new home.
Check Out the Holiday Itinerary
Many CCRCs, such as The Vista, boast a robust schedule of festive and fun holiday events all season long for residents to enjoy. Whether you want to participate in a creative holiday craft, such as The Vista's Holiday Centerpiece Making class, attend a festive champagne social, such as The Vista's Jingle & Mingle event, or enjoy a holiday concert, such as "A Candlelight Christmas" by Servants of the King at The Vista's Performing Arts Center – CCRC living has something for every resident to enjoy during the holiday season.
Share Holiday Meals On-Site
Indulging in delicious meals served in elegant on-site surroundings is another great perk of moving into a CCRC. Food is an important part of everyone's holiday traditions, and most CCRCs have an expert culinary team who takes pride in developing festive seasonal menus for residents and their families to enjoy. Retirement is a time to relax – CCRC residents can hang up their aprons and leave the holiday cooking to someone else! At the Waterstone, the upscale fine-dining restaurant at The Vista, residents can invite their loved ones to join them for a chef-inspired holiday meal, with refined yet hearty winter menu options such as creamy risotto, grilled pork chops, stuffed shrimp, and authentic cassoulet – a rich French stew of duck, pork, and white beans.
Invite Your Family to Celebrate
Older adults who are used to hosting holidays in their homes may be hesitant to give that up when moving into a CCRC. Even if your new home in a CCRC can't accommodate a huge family gathering, it doesn't mean you have to relinquish your beloved hosting duties! Many CCRCs, including The Vista, feature a dining space that you can reserve for a festive get-together with your loved ones. Although many retirees head south for retirement, if you are from the northern New Jersey area and considering a move to a CCRC, The Vista may be a great fit for you so that you can stay near your family!
Gather with Friends
Making new and meaningful friendships is one of the best parts of moving into a CCRC. If you find yourself without the comfort of family nearby, making the decision to move into a CCRC is a great way to meet new people and share your holiday traditions with one another. Whether you are joining your neighbors at The Vista on a merry field trip to historic sites decorated with sparkling lights, at an inspiring holiday concert, or on a group-caroling jaunt with a cozy cup of hot cocoa, there are plenty of ways to socialize and enjoy the holidays with friends at a CCRC!
Interested in learning more about life at The Vista?
 If you are considering a move to a CCRC in New Jersey, The Vista might be right for you. Learn more about us by calling (201) 848-4200 or providing your contact information using our quick and easy form.