Independent Living vs. Assisted Living: Which Is Right for You?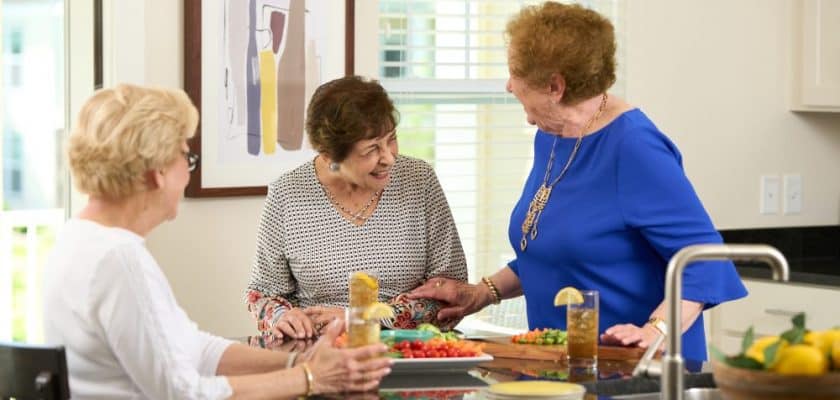 Independent and assisted living are both options for older adults in retirement who are looking for community housing with on-site activities, amenities, and daily meals. However, while independent living communities are primarily geared toward the social needs of residents, assisted living is more suited for those who need assistance with activities of daily living, whether it be due to reduced mobility, a health condition, or early-stage memory loss.
If you or a loved one are considering moving into a retirement community, it's important to consider the differences between these two types to make sure you choose the best option for your unique needs.
Assisted-Living Communities
Assisted living helps older adults who want to maintain as much independence as possible but still need some assistance with activities of daily living, such as medication reminders or help with grooming, bathing, or getting dressed. An assisted-living community should foster a safe and secure environment for older adults with limited mobility but still encourage independence and offer a diverse calendar of activities to promote a social and stimulating environment.
Common services assisted-living communities provide include:
Assistance with daily living tasks, such as using the bathroom, showering, getting dressed, and grooming
Housekeeping and laundry services
Restaurant-style meals and snacks
Nursing support and personal-care services 24 hours a day
Medication administration and pharmacy delivery services
A calendar of activities, exercise classes, and social events
Local transportation for running errands, grocery shopping, or medical appointments
Scheduled outings to local destinations of interest
Independent-Living Communities
An independent-living retirement community is ideal for older adults who live an active lifestyle and are looking to enjoy the perks of engaging with their peers and making new friends. While some independent-living communities offer only apartment-style housing for older adults, many feature  resort-style amenities, like on-site restaurants or a gym, and organized activities, entertainment, and transportation. The major difference between independent and assisted living is that residents in independent living are self-sufficient and don't require on-site medical care or support.
Common services independent-living communities provide include:
A robust calendar of events, activities, socials, and fitness classes to suit an active lifestyle
On-site maintenance and grounds care
Resort-style amenities, such as a gym, a pool, a library, or an art studio
Scheduled outings to local points of interest
Spa and salon services
24-hour security
Which Type of Community Is Right for You?
When deciding what community is right for you or your loved one, the most important factors to consider are health and mobility. If you or your loved one need assistance with daily tasks but still want to remain as active as possible, an assisted-living community will meet those needs. If you are more interested in the convenience of on-site maintenance and meals and looking to engage in an active and social lifestyle with other older adults of similar interests, independent living is right for you.
An assisted-living community is the right choice for older adults who:
Need support with activities of daily living and minor nursing assistance but don't require 24-hour medical care (such as skilled nursing)
Want to stay social and engage in activities
Are in good health but may need support soon
Want to remain as active as possible but don't drive or have access to transportation
An independent-living community may be the right choice for older adults who:
Are physically and mentally in good health and able to live independently
Want the convenience of on-site maintenance, such as home repairs, lawn care, and snow shoveling
Are looking for opportunities to meet people their age
Are looking to make new friendships in retirement and participate in interesting activities and day trips
Want on-site amenities, dining, and entertainment
A Continuum of Care at The Vista
We know choosing the type of retirement community can be difficult, because as get older, our needs, abilities, and health may change. The Vista is a continuing care retirement community, which means we offer access to a compressive continuum of care – right on the same campus. While The Vista is for older adults who are independent and active, if you need additional care down the road, such as assisted living, skilled nursing, or memory care, you can transfer to the community that meets your needs easily – and without a change in your fee depending on the contract you choose! Moving into a continuing care retirement community is often the best option for your future – this way you can enjoy an inspired, independent lifestyle now but have the peace of mind that you will be cared for no matter what support you need in the future.
Want to learn more about life at The Vista?
If you are considering a move to a CCRC in New Jersey, The Vista might be right for you. For more information or to schedule a tour, please call (201) 848-4200 or provide your contact information using our quick and easy form.