Technology Tips for Older Adults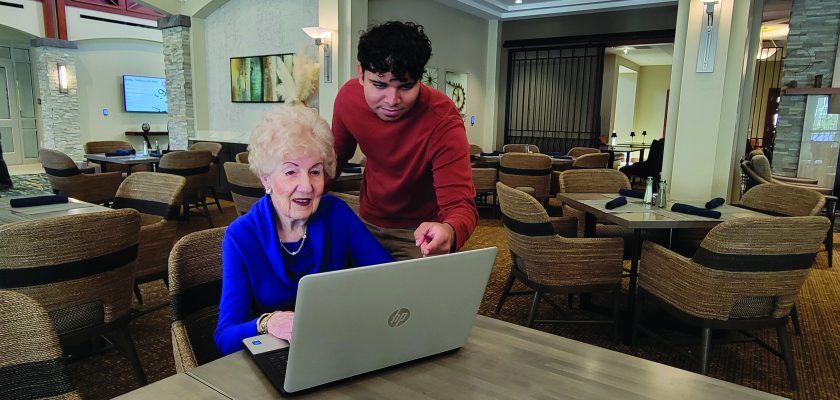 Learning to use a computer or mobile device can be challenging, especially if you are not accustomed to them or have impaired eyesight, hearing, or other issues that can affect ease of use. Keep the following helpful tips in mind when navigating the Internet or learning how to use a new smartphone to ensure your information is secure and your experience user-friendly.
Choose strong passwords: For every online account that requires a login, be sure to create a unique password that only you would know. Use a combination of special character, letters, and numerals. Never send your passwords through email or share them on social media.
Customize your mobile phone settings: Smartphones are highly customizable, with a variety of features that make use friendlier for older adults. Whether you are using an iPhone or Android device, you can customize settings such as font size, screen brightness, volume, and notification sounds. To navigate these options, click on "Settings." No matter which type of device you use, you will access a list of customizable options so that you can program your phone to operate in ways that are best for your eyesight and hearing level.
Keep your antivirus software up-to-date: There are many free antivirus options to protect your smartphone, laptop, or tablet from hackers or malicious viruses and software. These tools run in the background on your device to keep it secure. It's important to remember to install any updates to keep the software working properly.
Add contacts for family and friends: Remembering phone numbers has become a thing of the past – your phone allows you to save contact information for your all of your family members and friends so that calling them takes only one click of a button. Instructions for adding a contact will vary depending on your smartphone device; however, you can usually add a new contact by opening your "Contacts" application, clicking the plus sign to open a new entry, filling out the fields with the designated information, and clicking "Save."
Tech Support at The Vista: Keeping Residents Connected
On-site tech support services are among the many amenities offered to the residents of Christian Health's premier continuing care retirement community, The Vista.
Angelo Borrero, Information Services Technician, assists residents with a variety of tech issues. "The residents refer to me as 'the How-to Guy'," said Angelo. "I help them not only set up their devices when they move in but also troubleshoot any problems." Angelo can provide tech guidance for virtually any device, including computers, tablets, smartphones, printers, and televisions.
Services provided by Angelo include assistance with the following.
Streaming services, cable, and SMART TV connectivity
Cleaning up storage, downloading and deleting apps, taking pictures and sending them in emails, and installing iOS updates
Moving files to external drives and setting up external speakers, a wireless mouse, and keyboards
Residents submit their requests through the concierge, and Angelo meets them in their apartment or the lobby. His expert assistance is highly valued by residents of The Vista, who call him "a lifesaver" who "resolves their issues in a timely manner" and "relieves their frustration."
In addition to providing conveniences such as on-site tech services, The Vista offers finely detailed apartment homes, restaurants with various culinary options, and many clubs and activities to suit an active and independent lifestyle.
Want to learn more about life at The Vista?
If you are considering a move to a CCRC in New Jersey, The Vista might be right for you. For more information or to schedule a tour, please call (201) 848-4200 or provide your contact information using our quick and easy form.