The Importance of Health and Wellness at The Vista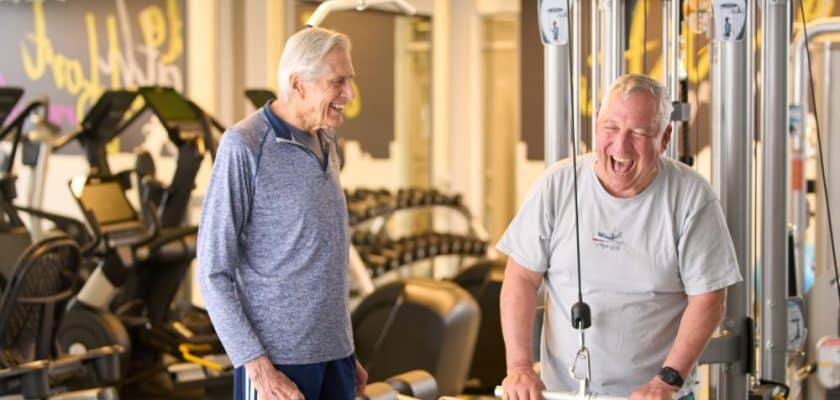 When choosing a continuing care retirement community in New Jersey, it's important to consider what amenities are most important to support an active, vibrant lifestyle. The Vista, one of northern New Jersey's newest CCRCs, offers it all – great entertainment, delicious dining, and perhaps most importantly, a variety of innovative health and wellness programs so that you can feel your best while you enjoy your retirement!
"We try to offer some area of fitness for everyone," said Ellen DeBel, Wellness Coordinator at The Vista. "We keep residents stimulated and offer programming that's going to interest a wide variety of people."
And physical fitness isn't the only priority at The Vista. "It's also intellectual fitness, emotional fitness, and spiritual fitness," said Ellen.
The Vista offers its happy residents access to everything from group exercise to a luxurious indoor pool to relaxing spa treatments – all of which support a healthy body, mind, and soul.
Walking Group
The Vista offers plenty of ways to get exercise, but Walking Group is perfect for residents who enjoy getting outside and enjoying The Vista's scenic views. The group meets in the Vista lobby three mornings a week to take a 20-minute stroll around the scenic grounds during pleasant weather and through the halls of the community on cold or rainy days.
Weight Training and Cardio Room
The Fitness Center at The Vista features a cardio area and weight studio that are open to all residents to work out on their own or with a physical trainer. The center features state-of-the-art equipment designed for older adults and on-site lockers.
Group Exercise Classes
If you prefer working out with a group, the Fitness Center offers an array of exercise classes to meet a variety of fitness levels. Chair-ercise, chair yoga, and gentle movement classes are among the types of fitness activities held regularly at the center to help older adults increase flexibility, improve mobility, and gain strength. For example, the class Movement as Medicine combines balance with stretching and breath awareness to improve ease of movement and posture and promote overall well-being.
Aqua-cise and Group Swim
The Vista's beautiful all-season Reach Aquatics Center features a heated indoor swimming pool, whirlpool spa, and indoor/outdoor spacious pool deck. You can enjoy the pool on your own, participate in organized group-swim sessions, or take an aqua-cise class, a gentle, body-weight-supported strength and conditioning class that's appropriate for all fitness levels. The aquatic center also features lockers, towels, showers, and a changing area for your convenience.
Health Screenings
Taking care of your health is essential in retirement so that you can enjoy it to the fullest. The Wellness Center at The Vista is designed to promote preventive health maintenance and advocate for resident wellness. The center features a team that includes a medical director, physicians, nurse practitioners, registered nurses, and regularly scheduled visiting specialists for wellness checks and health screenings. Outpatient physical, occupational, and speech therapy are also available.
Shine Salon and Day Spa
Pamper yourself at Shine, The Vista's on-site salon and day spa, which offers a variety of luxurious beauty and wellness treatments. Get a relaxing massage or nourishing facial, have your hair done, get a trim at the barbershop, or enjoy a mani-pedi. Indulging in self-care is not only important for your mental wellness – it helps ease stress, which promotes a physically healthy body as well!
Interested in learning more about life at The Vista?  
If you think an inspired, active lifestyle in a community like The Vista is right for you, we would love to tell you more. To learn more about life in one of northern New Jersey's newest continuing care retirement communities, please call (201) 848-4200 or provide your contact information using our fast and easy form, and get ready to start your journey!