An Elevated Experience in Fine Dining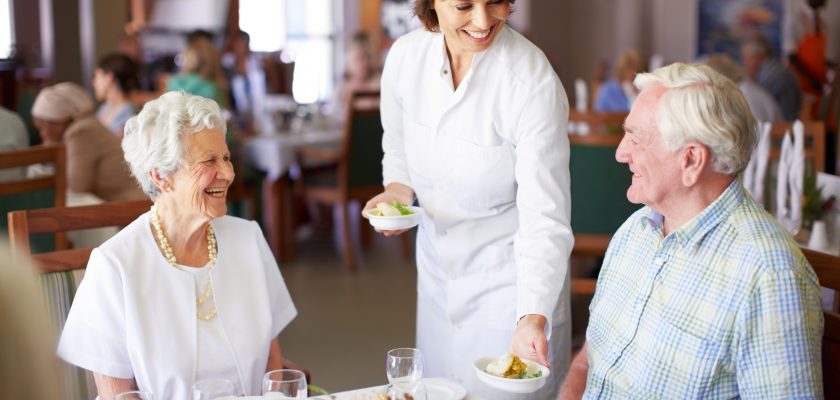 The Vista, Christian Health's premier continuing care retirement community, is nestled in the scenic Ramapo Mountains and offers an elevated community experience featuring beautiful independent senior living homes, a variety of luxury amenities, and a diverse selection of exceptional culinary options, from fine dining to pub fare, all served in a cozy yet upscale setting.
Since its grand opening last June, The Vista has prided itself on offering the best CCRC senior living experience, serving delicious dishes using only the finest, locally sourced ingredients. Recipes are developed with residents' preferences in mind, and the restaurants' menus offer everything from fresh fish to club sandwiches and paninis. The diverse menus are developed by culinary experts with years of chef experience in fine dining and banquet settings.
Waterstone is The Vista's fine dining restaurant, complete with elegant high ceilings, floor-to-ceiling windows that let in plenty of natural light, and patio seating for al fresco dining. The menu features many refined options, such as pork tenderloin medallions and stuffed lemon sole. The Windmill, The Vista's choice for casual but cozy pub dining, features high-backed leather chairs, marble-topped tables, and a roaring fireplace for a homey yet sophisticated ambiance perfect for gathering with friends. And if you're looking to just grab a quick bite, Gallery Café and Bistro offers lighter fare, such as oatmeal, omelets, salads, soup, and sandwiches.
The dining experience at The Vista is not only one of sophistication but convenience. The team members work diligently to ensure residents' needs are accommodated whenever possible. A private dining room is available for sit-down meals with family, and a personalized menu can be developed with the chef. "If there is something we are able to place on the menu that we do not normally offer, we do our best to offer it," says Ann-Marie Poduska, Vista Dining Director. Residents can also bring family members as guests to The Vista's three dining establishments.
Susan Garrison, head of the dining committee at The Vista, could not be happier with the food and atmosphere at the community. "The dining experience here is wonderful," she says. "The food is great. My husband and I moved in on the very first day [The Vista opened]. I've been eating here ever since."
Ms. Garrison is particularly fond of the variety featured on the menus, particularly the specials at The Waterstone. "Every night there is a catch-of-the-day special, a regular dinner special, and a soup of the day. The soups are delicious – people rave about the soups. There's plenty of variety for people to have something different."
The dining committee meets once a month to discuss concerns, make suggestions, and work together with Ms. Poduska and the chef to improve the overall dining experience at The Vista. "Both of them are real professionals in terms of making sure we have a fine dining experience here," Ms. Garrison says.
The dining staff at The Vista has been working hard to customize and elevate every aspect of dining for the residents through feedback from the dining committee, including changing dishware to keep food hotter, accommodating various dietary restrictions, offering half-size portions, and increasing menu options, such as including a fresh, local catch of the day.
One particular suggestion Ms. Garrison and her committee have recently made is a request for several larger tables added to The Waterstone dining room for big groups to dine together. "It's a very friendly environment. People like to eat with a variety of people," she says. "The one thing that's great about this place is that everyone has been extremely friendly to everybody else. There's a lot of mingling of residents. If someone comes in by themselves, if you have a place at the table, you invite them to sit down."
The Vista also hosts many senior living events, such as meet-and-greets, socials, and holiday-themed gatherings. News and updates on upcoming events as well as menus and weekly specials are available on the Wellzesta app, so residents can stay in the loop of everything happening at The Vista and be sure not to miss a night when their favorite dish will be served. "When we have prime rib night, everyone comes out," jokes Ms. Poduska.
Want to learn more about CCRC dining at The Vista?
The Vista is a premier CCRC in NJ. Learn more about us by calling (201) 848-4200 or providing your contact information using our quick and easy form.