The Vista dining experience in the age of COVID-19 (and after)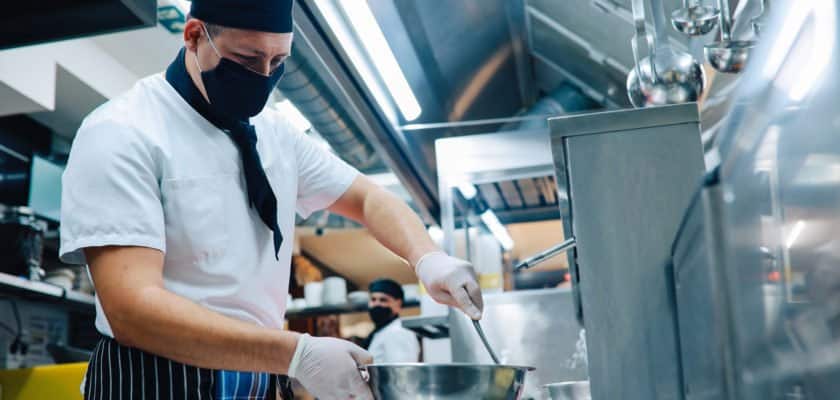 Even after the pandemic slows and our lifestyles begin a new normal, the dining experience in restaurants will remain forever changed. The same goes for the restaurants of The Vista.
When it opens this spring, The Vista will feature three dining venues. Waterstone is a full-service, fine-dining experience, while Gallery Café is a more casual option. Both will offer outdoor dining. In addition, The Windmill focuses on pub fare and take-out options.
"As construction of The Vista itself progresses, so too does the evolution of the community's dining program," says Schelley Hollyday, principal of Hollyday Group, a company solely focused on senior-living hospitality. The group is charged with creating The Vista's culinary program and dining precautions to ensure resident and staff health and safety. "We're creating and researching ways to ensure safe, communal dining in The Vista's venues, along with changes that will stay permanent even after the pandemic comes to an end."
Ms. Hollyday, who has more than 30 years' experience in senior-living hospitality, outlines both temporary and permanent changes to the dining program to ensure health and safety.
Social distancing – Our restaurants are being reconfigured from original plans to allow for social distancing. Over time, as the Centers for Disease Control and Prevention, the New Jersey Department of Health, and industry best-practice guidance dictates, tables will shift back to normal and seating capacity will be increased. The Windmill's bar seating will be temporarily prohibited.
Digital or single-use menus – At opening, menus will be available via single-use paper menus, a dedicated Vista app on a smartphone, or on our website. In time, we'll be able to revert back to traditional menus (part of a true dining experience), while still offering online menu viewing, if preferred.
Al fresco dining – While the Vista always planned for outdoor dining, we're increasing distance between tables. Over time, tables will shift back to traditional spacing.
Safe servers and food preparation – The entire dining team will be masked, gloved, and trained on safe practices. Residents and guests must wear face coverings that can be removed when at the table.
Online reservations – The pandemic has forced many restaurants to set up simple reservation systems. We've created such a system and will continue to use it even once the pandemic subsides. Residents will enjoy preferred dining times and locations on a rotating basis.
Meal delivery – To optimize safety, residents may request meal deliveries to their apartment homes.
HVAC ionization – In addition to brand-new HVAC systems that use fresh air from the outside (not recycled interior air), an ionization feature will help disinfect surfaces in common areas. The process not only kills coronaviruses, but also bacteria, mold, dust mites, pet dander, and organic compounds.
Ultraviolet robot cleaner – We're considering a remote-control ultraviolet robot cleaner that acts as a complement to HVAC ionization. This robot cleaner can disinfect dining areas without a person needing to enter.
New and better cleaning products, used more often – We're increasing cleaning of dining areas, and using only products certified to kill coronaviruses.
"Restaurants across the country have been challenged unlike ever before in this pandemic, and senior-living restaurants are, in many ways, no different," says Ms. Hollyday. "At The Vista, the entire culinary team has stepped up to create amazing dining experiences both during and after the pandemic, paired with a dining program focused on flexibility, quality ingredients, and engaging menus. We can't wait to open the doors to residents."
If you would like to learn more about dining or any other element of life at The Vista, please contact us to speak with a Residency Counselor.