The Vista is built for staying on the move.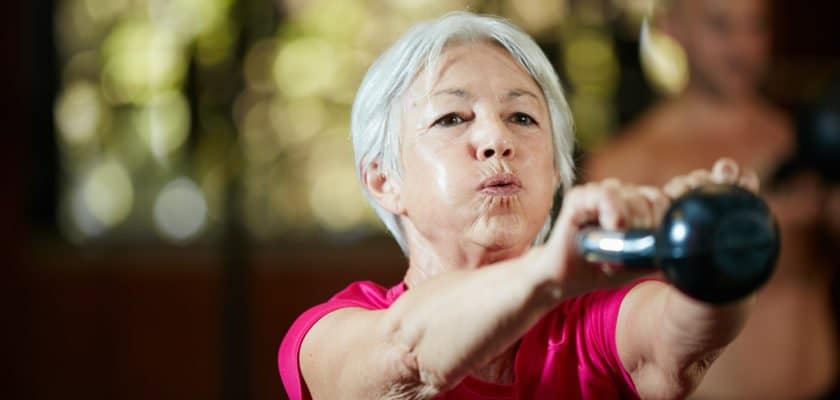 When it comes to health and fitness, things are shaping up nicely at The Vista, a new independent living community in northern New Jersey.
We offer impressive fitness facilities, exercise classes, and aquatics, all situated in an ideal location for outdoor lovers, whether you enjoy walking, gardening, hiking, or water activities. We're serious about our fitness offerings, because we know that staying active is important for mental and physical health — and, when done right, exercise can feel more like fun than work.
Countless studies have shown that exercise can improve your immune system, and a recent study even suggests it can help fight COVID-19. Exercise can also improve sleep (a good workout routine is one of our top tips for better sleep) and mental health, including alertness and memory, while reducing depression, anxiety, and stress.
It's not just anecdotal, either. Many surveys have compiled statistical evidence that exercise can benefit people in numerous facets of their lives.
One study found exercise is more important to mental health than money.
People who exercise for at least 30 minutes, several days a week, are about 30% more likely to consider themselves happy.
The risk of dementia also declines by about 30% among those who exercise regularly.
The risk of often feeling overly sleepy during the day decreases by about 65% among people who regularly are physically active.
We're creating an oasis of fun and health at The Vista for people who are 62+ years of age. Along with our 161 apartments, entertainment venues galore, delicious dining options, education, and hobby opportunities, we're making it enjoyable to be active. And we offer a variety of options, so that residents can choose what fits best for them.
The Vista Wellness Center is centrally located in the community and boasts a multi-purpose room, group exercise classes, a strength and cardio training room, and locker rooms. There's also a fitness bar that serves quick, healthy snacks and beverages.
In addition, we have top-of-the-line aquatics facilities, including a heated indoor pool, water exercise classes, and a jacuzzi spa.
The Vista is a Christian Health community, so we are backed by more than a century of experience. Residents of The Vista have priority access to all of the health care amenities available as a Continuing Care Retirement Community (CCRC).
In a community that prioritizes health and fitness, it's no surprise that we also went all out in building the Bolger Rehab Gym & Wellness Center, a 14,000-square-foot rehabilitation gym. The center offers the best in modern technology and progressive approaches. There's also a home-like setting with a kitchenette, living room, bedroom, bathroom, and laundry room for occupational therapy. (Who says keeping in shape can't be comfortable?)
It's all situated in an ideal setting at the base of the Ramapo Mountains, perfect for awe-inspiring views and the endless fitness and exploration possibilities they offer.
Residents who appreciate nature need not look farther than their own backyard. You'll be able to enjoy the outdoors with paved walking trails and gardens. Or, if you're feeling adventurous, explore the Ramapos, which offer more than 100 miles of trails that are maintained by dozens of volunteers.
The mountains overlook the Ramapo River, a beautiful waterway for waterside walks, kayaking, fishing and other water activities. The river is about 30 miles and spans much of northern New Jersey and parts of southeastern New York.
You and your family's health and well-being are our top priority. Being a new community means we're starting with a clean slate, which is a valuable luxury amid the coronavirus. Better yet, we also have the advantage of utilizing the knowledge we've gained at our sister properties in preparing for the coronavirus and other health related concerns and constantly being proactive to safeguard our residents. The Vista is a Christian Health community with more than a century of experience, and all residents of The Vista will have immediate and priority access to all of the health care amenities that CH offers.
For those who appreciate the finer things in life and want to keep on the move, we understand you. That's why we built a community that's fit for helping you stay fit.
Contact us today to learn more about our commitment to fitness, and how to make The Vista your next home.