The Vista's Award Winning Design Promotes a Sense of Community and Connection to Nature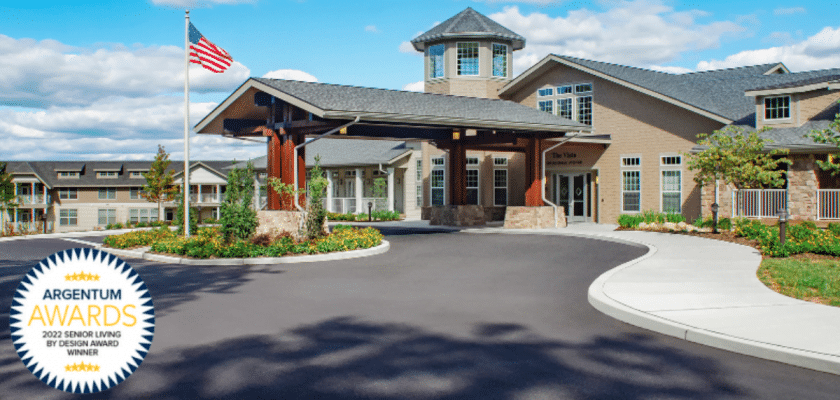 Christian Health's premier continuing care retirement community for older adults, The Vista, has received the Argentum 2022 Senior Living by Design Award! This annual awards program honors the architects, design firms, and senior-living providers who create quality communities for older adults that focus on innovative and beautiful surroundings. This year's winners are specifically noted for providing an environment that promotes community and a connection to nature.
The Vista was chosen to receive this honor not only for its innovative use of its picturesque location, but also for the natural "sense of arrival" that the building's design creates. The Argentum Design Report notes that The Vista's "winding entrance … inspires a first impression of serenity with views of hills and trees in a quiet yet suburban neighborhood." The report also praises The Vista's rustic exterior, the oversized windows that let in plenty of natural light, the panoramic views enjoyed by diners at the Waterstone fine dining restaurant, the vibrant, energy-boosting colors used in the wellness areas, and the community's beautifully manicured grounds and walking paths.
Argentum received nearly 20 nominations for the award this year. An independent panel of judges from the architecture, design, and senior-living fields selected the five winners.
"As the judges note, these designs are focused on bringing the best of senior living forward," said James Balda, Argentum President and CEO. "The wide variety of types of communities as well as the breadth of locations represented among the recipients showcases the choice and quality offered in senior living today."
Argentum is a leading national association exclusively dedicated to supporting companies that operate well-managed, resident-focused communities for older adults. Along with its state partners, Argentum's membership represents approximately 75 percent of the senior living industry.
Want to learn more about life at The Vista?
See the community's award-winning design for yourself – call (201) 848-4200 or fill out our fast and easy form for more information or to schedule a tour!