Vista Resident Spotlight: Jane Whitley on Enjoying CCRC Living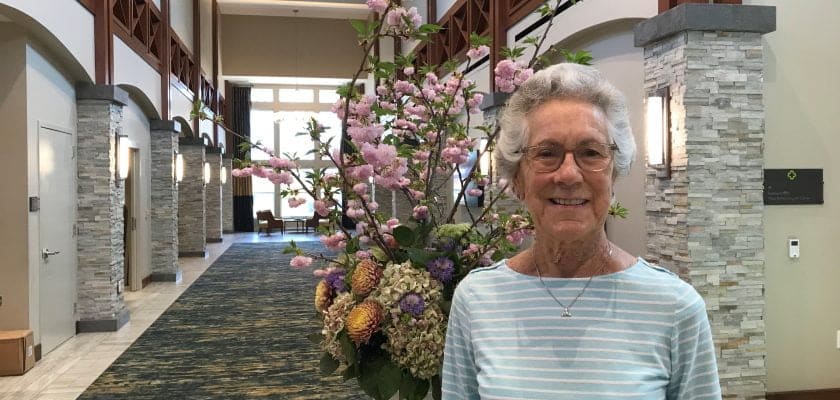 According to Vista resident Jane Whitley, the premier continuing care retirement community has it all.
The Montclair native made the move to The Vista this past October and has been thoroughly enjoying everything it has to offer since. "When I found out The Vista was going to be built, I looked into that and signed up early on," she said. "Then I thought, 'Oh, I'm not quite ready for this,' but by the time it was finished, I was ready. I've been very happy here."
Ms. Whitley grew up in Montclair, New Jersey, and after marrying and spending some time in Jacksonville, Florida, returned to New Jersey and settled in Wyckoff with her husband to raise their two daughters. In addition to being a devoted housewife, Ms. Whitley enjoyed volunteer work, and lent her time and efforts to organizations such as the Junior League. "We had an old historic house and I used to cook in the beehive oven and lead kids around for a tour of the house," she recalled. "That was fun."
After their daughters headed off to college, the Whitleys sold their home in Wyckoff and bought a townhouse in Mahwah. When her husband passed away in 2015, Ms. Whitley began considering selling the townhome and moving into a CCRC.
"Originally I didn't want to make a move," she said. "I loved my townhouse. But my sister's in a continuing care place, and my brother and his wife are in one in Maryland. They both said it's wonderful with all the activities and the friendships – you keep busy. So they really influenced me. I thought this was a good move to make, and I'm very glad that I did. It all has worked out very nicely."
Ms. Whitley is involved in a vast variety of activities at The Vista, including exercise classes, the book club, and the wellness committee. "We're working with Ellen, the nurse, and we got the defibrillator for the front hall," she said of her work with the wellness committee. "We encourage people to go to the gym and work out and stay healthy," she said. "That's the important thing."
Ms. Whitley also stays active by participating in a walking club with fellow Vista residents. "I walk every Monday, Wednesday, and Friday at ten o'clock," she said. "We walk all the way around the complex and down past the health center on the Spirit Path, and it's a good 25-minute walk and a lot is uphill. I like to keep busy each day doing some sort of exercise. Ellen's trying to get a Tai Chi instructor here, which will be good, because that's always good for balance, and for older people it's very good exercise."
The Vista's elevated dining experience is one of the most praised aspects of the community, and Ms. Whitley is in agreement with all the residents who rave about the food and ambiance. She enjoys dinner at the Waterstone and the Gallery Bistro and Café, not just for the freshly prepared and delicious meals, but for the company, too. "It's very nice and very friendly," she said. "And if you don't have any plans to eat with anyone specific, you would just go down and join a group. Everyone is very friendly that way – it really works very nicely."
In addition to the friendly residents, Ms. Whitley is impressed with the staff at The Vista as well. "The young people serving at the Waterstone are just wonderful. They're all high school age and they are just so helpful and so courteous," she raved. "They do a great job and we're very pleased with them."
When she's not mingling with the other residents, participating in activities, or dining in The Vista's restaurants, Ms. Whitley is enjoying her apartment's picturesque view. "I wanted a nice, bright, cheery apartment," she said. "I'm in Esplanade, and I overlook the back lawn and patio and have sun all day long. When the sun's out it is so beautiful. I just love my location."
While Ms. Whitley often spends her summer in Cape Cod visiting friends, she is enjoying life at The Vista so much she almost didn't make the trip this year. "I'm going to come back earlier because I'm missing things here and I want to be here!" she laughed.
Want to learn more about CCRC living at The Vista?
The Vista is a premier CCRC in NJ. Learn more about us by calling (201) 848-4200 or providing your contact information using our quick and easy form.