Vista Resident Testimonial: "I'm a Happy Camper"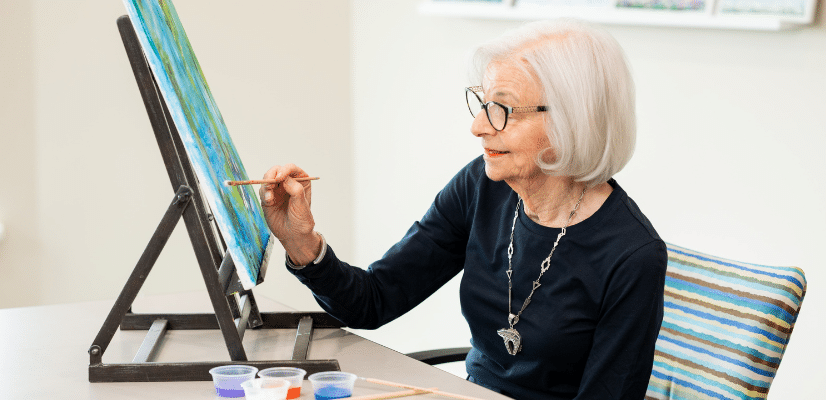 Elaine Goodman says in her Vista resident testimonial that moving to The Vista was "an easy decision."
The Bergen County resident lived all over with her husband in the early years of their marriage while he was in the navy. They eventually settled in Glen Rock to raise their children and then relocated to Wyckoff for 25 years.
However, when her husband developed Parkinson's disease, Elaine knew it was time to move into a community where her husband could get the help he needed – and where she could plan for her future as well.
"My daughter wisely said, 'It's time to see where you might want to go and live with Dad,'" she said. "She took me to a couple of assisted living and independent retirement communities, but then one of my friends told me about The Vista opening."
Elaine's husband was recovering from an injury at Bolger Short-Term Rehab, so she was already familiar with Christian Health. "I was so impressed with the people there, and I really liked the atmosphere," she said. "Best of all it was in Wyckoff, and I've always liked living here."
She made the move to The Vista in October 2021, while her husband moved into Longview Assisted Living. The fact that Christian Health offers a full continuum of care on one campus was an important factor in her decision. "I was able to see him every day," she said. "And I set the blueprint for my future as well. It's a kindness to your kids, because they don't have to think about the next step. It's wonderful."
Elaine is certainly happy with her decision to move to The Vista – she loves participating in the wide range of activities the community offers, including yoga, fitness classes, bridge, and the engaging lectures and musical performances at The Vista's Performing Arts Center.
"The programs are excellent," she said. "They're academic, they're fun, and they're musical. It's really a blessing to be here. My biggest complaint about them is I can't do it all!"
Residents at The Vista enjoy a close-knit community experience, making the premier CCRC the perfect place for older adults who are seeking friendship and socialization in retirement. Elaine describes the residents at The Vista with affection and is enjoying forming many new, meaningful friendships.
In addition to the full schedule of fun and stimulating activities, The Vista also hosts meet-and-greets for newcomers to welcome them to the community, making the friend-making process easy even for those who are introverts.
"The people here are tops," she said. "I've made so many friends in a short time. They're sincere people and everyone really tries to help each other."
Elaine describes The Vista's friendly and attentive staff as another huge perk of living at the community. "They're incredible, caring, and so pleasant and nice to be with," Elaine said. "It's like they're handpicked! They really try to help in every way they can. It's not just a perfunctory 'Hello, how are you?' You want to talk to them."
Overall, The Vista has provided Elaine with a wonderful place to call home – offering an environment that fosters self-sufficiency, encourages a stimulating community atmosphere, and provides a full continuum of care services, including skilled nursing and memory care, conveniently on the same campus should residents one day need it.
"You are still independent, you have people who are interesting, and it's just a pleasure to be here," she said. "I'm a happy camper!"
Want to learn more about life at The Vista?
If you are interested in living an inspired, active lifestyle in a beautiful and engaging community – with the added security of life care services for your future – The Vista may be right for you! To learn more about life in one of northern New Jersey's newest continuing care retirement communities, please call (201) 848-4200 or provide your contact information using our fast and easy form. We can't wait to welcome you home!