Why Downsizing Means Right-Sizing for Seniors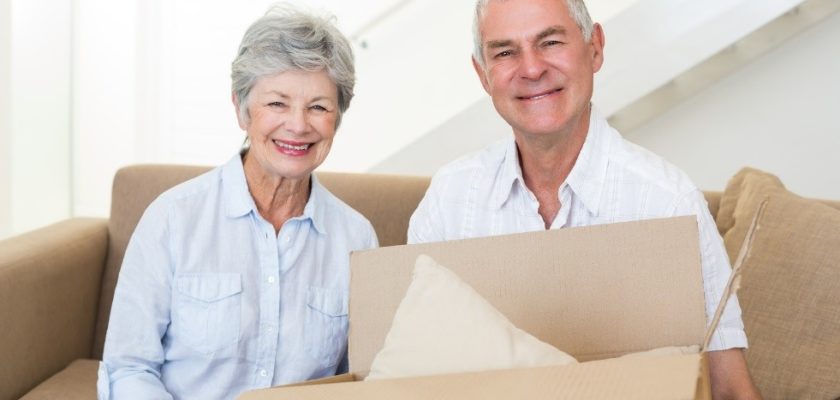 Downsizing your home and moving to a CCRC offers several benefits including  a healthier, safer, and more vibrant lifestyle.
Moving is difficult at any age. Between hiring the movers, going through decades' worth of belongings, and packing and unpacking, moving is a process that takes a lot of time, organizational skills, and an extra dose of patience.
However, as the baby boomer generation continues to grow, many  older adults are beginning to seek out a more carefree and independent lifestyle for their retirement years. This means that many seniors are downsizing and moving out of their long-time homes to enjoy an independent living lifestyle in a retirement community.
When Should You Consider Downsizing Your Home?
You might be reluctant to downsize your home. But taking a proactive approach to moving before a health issue makes it necessary is an important step in maintaining your independence. Why? For starters, you will have full control over the decisions you make about your future, as you're able to choose the community that will best suit your lifestyle. Secondly, moving to a continuing care retirement community (CCRC) allows for a true way to age in place. If, or when, your health needs change, the level of care you receive changes with you. And, this care is provided in the same community where you have already made your home, surrounded by your spouse, friends, and neighbors.
If you aren't convinced yet, here are a few more benefits of downsizing your home:
No more home maintenance. At one point in your life, you probably didn't mind doing yardwork and cleaning a big house. However, in your retirement, these tasks may not only become a burden, but they may be dangerous, too. When you downsize to  an independent living community, you can leave the heavy maintenance tasks like cleaning the gutters, mowing the lawn and shoveling snow to someone else. Plus, many communities offer assistance with some light housekeeping tasks, too.
Just the right amount of space. Consider the size of your current home and the number of rooms you have. It's possible you have extra bedrooms you never use, or too many flights of stairs to get to your bedroom or the laundry room. Downsizing to an independent living apartment or townhome offers just the right amount of space for you and any guests who come to visit.
Ease some financial worries. Downsizing your home can save you a lot of money in the long run. Even if your mortgage is paid for, the cost of owning a large home is always on the rise. Consider your property taxes, high HOA fees, and if any big-ticket items like appliances or your roof will need to be replaced soon. Add in healthcare costs, too. When you add up all your monthly expenses and compare them to the cost of a retirement community, you may find you'll actually save money on many of your bills by downsizing.
Make new friends. Seniors who live alone often face social isolation which can have serious implications on physical, mental and emotional health. Senior living communities recognize the countless benefits social activities provide to residents, so you'll enjoy a full calendar of events to experience with your neighbors. This provides plenty of opportunity for you to make new friends and continue to build those important relationships as you age.
Enjoy more free time. Your time is yours when you downsize to  an independent living community, which means you can relish in having more time for the activities you find most important. Visit with family and friends, pick up a new hobby, write your memoir – whatever it is you want to do, you'll now have time to do it.
Peace of mind for your future. Downsizing and moving to a senior living community relieves not only you, but also your adult children of any worries about your future. You'll know that help is always available in any type of emergency situation, plus you'll receive the right level of care to allow you to truly thrive.
Maintenance-Free Living at The Vista
Live life on your own terms at The Vista with maintenance-free living and a variety of amenities for a vibrant lifestyle. Explore our independent living floor plans and healthcare services to learn more about how our exceptional continuing care retirement community can meet your needs. If you'd like to schedule a tour, contact us today! For a limited time, secure your future with The Vista before prices increase on April 1. Please call (201) 848-4200 or click learn more below for more information about The Vista. Come discover the The Vista's unparalleled lifestyle offerings for yourself!