Wellness as a Way of Life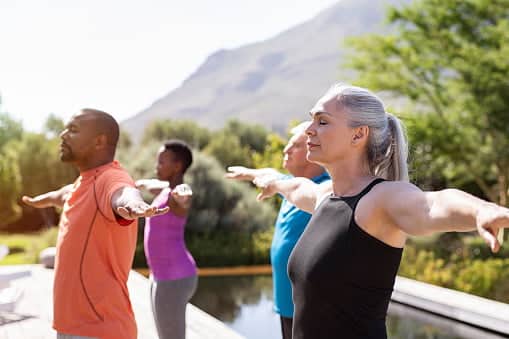 Wellness as a Way of Life
Tuesday, October 19, 2021, 10:00 am - 11:00 am
Be our guest at this engaging, interactive event and explore the deeper meaning of wellness. You'll enjoy coffee and individually wrapped healthy snacks as you are greeted by Patrick Duffy, Executive Director at The Vista. Then, in small groups, you'll tour the amenities and model apartments, learn about holistic wellness from professionals, and take part in a fun, socially distanced yoga demonstration. In addition, we look forward to sharing with you how The Vista is bringing wellness to a higher level by partnering with Wellzesta, an innovative, wellness-focused program. You may very well find the path to begin your own personal wellness journey at this special event, so be sure to RSVP today.
Here's who you'll meet:
Wellzesta Team via Live Vista TV
Team members will demonstrate how the Wellzesta daily engagement guide connects, engages, inspires, and empowers through programs that address each area of wellness.
Ellen DeBel, RN-BC, The Vista Wellness Coordinator
Ellen will share how wellness requires the active, dynamic process of becoming aware of and making choices toward a healthy and fulfilling life that can lead to change and growth.
Laurie Glass, Certified Yoga Therapist
With your participation, Laurie will demonstrate how yoga can help sustain a lifestyle change that addresses all aspects of you: physical, emotional, social, and spiritual.
Erica LaGruth, PT, DPT, PT at Christian Health Fitness & Aquatic Centers
Erica will present the extensive array of innovative programs and activities available to promote wellness at The Vista Fitness Center and Aquatic Center.

Reservations are required. RSVP to 201-470-0873. Live invigorated, inspired, and connected. Fill out the form below to RSVP.
Small groups are scheduled every hour.
The Vista is following all Centers for Disease Control and Prevention (CDC) protocols. Proof of vaccination and masks will be required.
The Vista
299 Sicomac Avenue
Wyckoff, NJ 07481