Bob and Lorraine Oechslin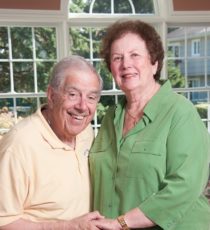 "The Vista," Bob Oechslin says, "makes sense for our future."
The Vista is Christian Health's (CH) new Life Plan Community, also known as a Continuing Care Retirement Community, coming to CH's Wyckoff/Hawthorne campus. Bob Oechslin and his wife, Lorraine, will be residents of this unique community for active, independent adults 62 and better.
"The Vista timeline fits for us," says Mr. Oechslin, who owns a company which sells flavorings to the dairy and food industry. "It gives us time to get ready."
The community will feature up to 199 spacious, one-level apartments with one or two bedrooms available in a variety of 19 different floor plans ranging from 845 square feet to 1,535 square feet. While the community at The Vista will be intimate in scale, residents will enjoy abundant amenities. Features will include three dining options – fine-dining, casual café, and pub-style fare; a state-of-the-art fitness center; aquatic center; spa and salon services; Cultural Arts Center; library; social events; educational programs; walking trails; and covered parking.
"The size of The Vista attracted us, and the amenities are exactly what we wanted," says Mrs. Oechslin, who was a manager at AT&T before she retired. "We are looking forward to attending lectures and presentations in the Cultural Arts Center. The big thing for me will be the indoor pool."
Residents will also benefit from CH's range of health-care resources and the security of knowing that a full continuum of care is available, if needed.
"Continuing care is such a great idea," Mrs. Oechslin says. "When I recently needed short-term rehab, I didn't know where to look. Now, if I ever need it again, I can go to CH's short-term rehab unit without leaving the campus."
The carefree, maintenance-free lifestyle was yet another appealing aspect of The Vista.
"We're taking care of a very big house, and we know that it is going to become more of an issue as we get older," Mrs. Oechslin says. "It will be nice not to worry about taking care of it."
The Oechslins were introduced to The Vista at a lunch-and-learn event.
"When the invitation arrived, the renderings of The Vista looked very attractive, but we were a little concerned about the distance from our home because our children and grandchildren live in this area," Mrs. Oechslin says. "The drive only took 23 minutes! That answered my question about how quickly and easily our family could get here."
Following the luncheon, the Oechslins made an appointment to tour the CH campus and see where The Vista will be built.
"It's a lovely location with a very nice view," Mrs. Oechslin says.
The Oechslins became members of the Vantage Club. Members have made a 10-percent deposit in advance of the anticipated opening and locked-in to pre-construction pricing. They are also invited to special events designed so that they can get to know their neighbors-to-be and be kept up-to-date on progress.
"As you become older, you become more educated about what is important to you and what you are looking for," Mrs. Oechslin says. "The Vista is our future."