Irene Turrisi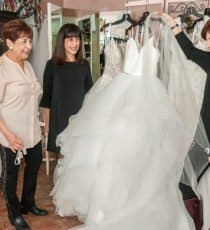 Lynda Raymond has just one regret about her mother, Irene Turrisi, moving to The Vista,
"I wish I could, too!" Mrs. Raymond says. "The Vista is first-class, and my mother deserves a first-class experience. The way she lives is amazing."
The Vista is North Jersey's newest Life Plan community, also known as a Continuing Care Retirement Community, which is on CH's Wyckoff/Hawthorne campus. It features up to 199 spacious, one-level apartments with one or two bedrooms with 19 different floorplans ranging from 845 to 1,535 square feet. While the community at The Vista is intimate in scale, residents enjoy abundant amenities. Features include three dining options – fine-dining, casual café, and pub-style fare; state-of-the-art fitness center; aquatic center; spa and salon services; Cultural Arts Center; library; social events; educational programs; walking trails; and covered parking.
The Vista's location is appealing to Mrs. Turrisi. She called Wyckoff home for 50 years before moving to Hawthorne.
"I have been keeping busy, but I don't want to be a burden to my children down the road. So when some of my friends mentioned that they were moving to The Vista, I went online to TheVista.org for more information," Mrs. Turrisi says.
Mrs. Turrisi made an appointment at The Vista Information Center. Encouraged by what she learned, she invited her three daughters to accompany her to her next visit.
"We were with her at every appointment at The Vista almost from the start," says Mrs. Raymond, whose two children were CH Junior Volunteers. "We helped her pick her apartment."
"I really like that the apartment is one floor. My townhouse has steps and cathedral ceilings. That would be difficult down the road," Mrs. Turrisi says.
"It's the best feeling for me and my sisters that our mother is living at The Vista," Mrs. Raymond says. "It warms our hearts to know that she is cared for by people who are caring."