Kris Wenthold
Retired senior consultant of health and welfare benefits for Aon Corporation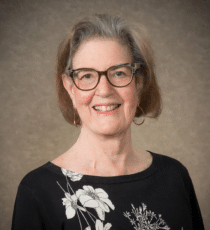 Everyone has their own personal reasons for wanting to live at The Vista. I'll share mine from a single person's perspective.
After my husband passed away, I stayed in Bethesda, MD for a while but wanted to be closer to my children. I had concerns about leaving my home because of all the memories attached to it. Then I realized that you can bring memories with you wherever you go.  A lovely downsized cape nearer my children became my new home.
I always thought I would age in place. Then, one winter, snow knocked shingles off of my roof and I decided I didn't want to deal with maintenance anymore. I didn't want my children to have to take care of my maintenance issues, either. I'm independent and want to stay that way.
A brochure from The Vista came in the mail and planted a seed. The community is intimate in size, comprised of active people, have nice apartments and amenities, several dining options (I hate cooking for one!), and complete maintenance.
Another aspect of The Vista that attracted me is the many opportunities for social interaction. That's a top priority of mine. So are my two kitties. I wanted to be certain they could move there with me. It's the first question I asked The Vista team!
What really sold me on The Vista was the Christian Health's mission "to foster health, healing, and wellness for people of all ages in a compassionate and loving environment consistent with the Christian principles on which we were founded." I remember musing that this is the kind of place where I can be at peace. I'm enjoying The Vista lifestyle and my lovely new, maintenance-free apartment home.