Mary Miller and Adelina Sapienza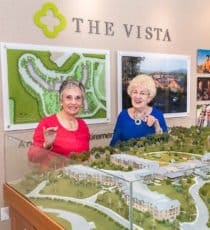 For some individuals, living at The Vista leads to building new friendships. For others, like Adelina Sapienza and Mary Miller, it means living closer to long-time comrades. The two women became friends 15 years ago through Serving Hands, a group at Hawthorne Gospel Church which makes and supplies items for missionaries. They are now neighbors at The Vista.
The Vista is New Jersey's newest Life Plan Community also known as a Continuing Care Retirement Community at Christian Health's (CH) Wyckoff/Hawthorne campus.
"I love the location of The Vista," says Mrs. Miller, a former home economics teacher and mother of two.
The Vista, for active, independent adults 62 and better, features up to 199 spacious, one-level apartments with 19 different floor plans ranging from 845 to 1,535 square feet. While the community at The Vista is intimate in scale, residents enjoy abundant amenities. Features include three dining options – fine-dining, casual café, and pub-style fare; a state-of-the-art fitness center; aquatic center; spa and salon services; Cultural Arts Center; library; spiritual activities; social events; educational programs; walking trails; and covered parking.
"The Vista is the place for me!" says Mrs. Miller, a mother of two.
Mrs. Miller was born and raised in Sunbury, PA. After marrying her husband Nevin, who passed away five years ago, the couple moved to New Jersey. Mrs. Sapienza, also a mother of two, was born in Sicily, Italy, and moved to the United States after she married her husband Frank. He passed away 11 years ago.
While both women enjoy gardening, traveling, and meeting new people, they differ in such areas as … the sun! The Vista is designed to address their individual preferences.
"I like the morning sun," says Mrs. Sapienza, whose Vista apartment faces east.
"And I like the afternoon sun," says Mrs. Miller, whose Vista apartment faces west.
The friends also appreciate the continuum of care available for Vista residents, if necessary. CH offers a full range of senior-life and mental-health services, as well as inpatient and outpatient short-term rehab.