Top seven benefits of assisted living in Wyckoff, NJ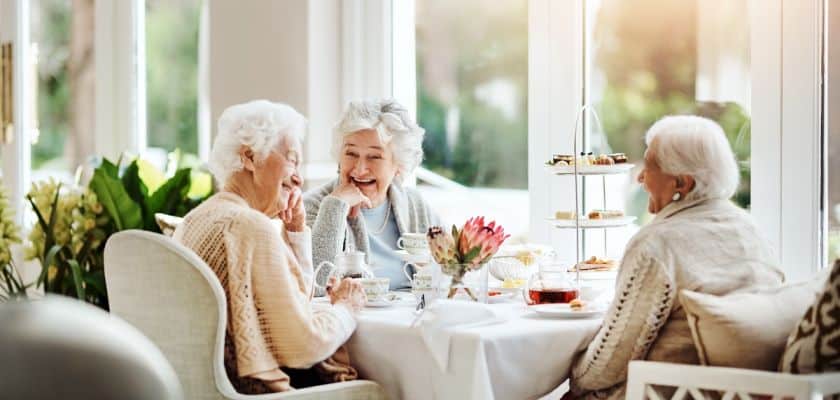 On the very same Wyckoff, NJ campus as The Vista – a short walk away – is our assisted living community, Longview. When you need an extra set of helping hands, Longview, located on Christian Health's 78-acre campus, offers premium residential assisted living to help maintain each individual's independence.
There, residents receive personalized assistance with activities of daily living (ADLs), while also enjoying innovative programs and a diverse calendar of activities and events.
Those who need assisted living care come to Longview in one of two ways:
You are a resident of The Vista and, as part of your Life Care contract, access the community and additional levels of support with no change to your fee structure.
Residents, usually from the Wyckoff area, and who are living at home or a different community, who need assisted living. For these prospective residents, moving directly into assisted living that is part of a Continuing Care Retirement Community offers many advantages over free-standing communities!
And here are seven reasons why assisted living in Wyckoff is the place to be.
A healthy social life
Endless engagement
Safety and security
Reduced stress and peace of mind (for all)
Chef-prepared meals with dietary accommodations
Access to on-site healthcare
Comfortable home with built-in amenities
A healthy social life
Living alone can be isolating, especially for someone who has lost a partner. Studies show that socialization can enhance quality of life, confidence, and self-esteem. In addition, Longview provides newly renovated spaces and amenities, a library, living rooms and lounges, private family dining room, and an atrium with fireside seating.
"A new resident who had been living alone had struggled with loneliness and isolation. She moved to Longview on a very dark, windy, and rainy day," Longview admissions director Victoria Durante recalls. "When I commented on the terrible weather, she gave a big smile and said it was the most beautiful day because she was moving into her new home at Longview. These heartwarming moments reinforce why we do what we do."
Endless engagement
To build on socialization, Christian Health and Longview maintain a packed calendar of programs. Longview offers everything from strength and stability classes, movies, Pictionary, Jeopardy and Trivial Pursuit, and Sunday non-denominational worship services.
Wyckoff is also in the shadow of the Ramapo Mountains, a short drive to the Hudson Valley, and of course, an hour or so from Manhattan. (Need things to do in Bergen County? See here.)
Assisted living residents can also enjoy The Vista's state-of-the-art wellness center for group exercise classes or strength training, along with aerobics in the aquatic center. If you're not up for exercising, work your brain out in the art studio, take part in a production at the performing arts center, or peruse the books at the library.
Safety and security
One of the main reasons for assisted living is the need for safety. When a person lives alone who can no longer fully care for themselves — whether dressing, cooking, or other ADLs – there is significant risk of injury, such as a fall, that can require long-term care.
For residents entering independent living at The Vista, they arrive to new construction designs that have incorporated many permanent elements to ensure a safe and healthy community. This includes individual HVAC systems that use fresh air from the outside, ionization features, and a UVC remote-control robot cleaner that complement the HVAC system. Across the Christian Health campus, only products certified to kill coronaviruses are used for cleaning.
Reduced stress and peace of mind (for all)
Yes, residents will enjoy as much independence as possible while gaining 24/7 support. But that stress reduction comes for adult children and caregivers, too. No more worrying about whether mom or dad can cook a meal, get dressed, or are safely protected (for visiting families or friends, we also offer guest house lodging.)
For residents of The Vista, by nature of the Life Care contract (in place for most residents), they have the amenities and options offered in independent living, plus gain priority access to assisted living, skilled nursing, and memory care— without paying a higher monthly fee beyond small annual inflation increases. (Our other contract option is Fee-For-Service, often chosen by those who would like to self-insure or who already have long-term care insurance).
For those who are not a Vista resident and simply need to move to assisted living (from a home or other community) unlike the case with a CCRC, there's no entrance, community, or move-in fee required to join.
The Christian Health campus is entirely maintenance-free, so no one — from independent living at The Vista to assisted living at Longview — ever has to worry about housework or home maintenance.
Chef-prepared cuisine with dietary accommodations
Assisted living residents enjoy healthy and delicious restaurant-style cuisine each day. In addition, the 24-hour Village Café is always open for coffee and snacks, and there's a daily afternoon refreshment service.
Access to on-site healthcare
Longview is on the Bergen County campus of Christian Health in Wyckoff, which already offers short-term rehabilitation, memory care, and mental health services. Your neighbors at Longview also come from The Vista, a brand new independent living community that allows Christian Health to provide the full continuum of care to older adults.
Adjacent to assisted living is Courtyard at Longview, specialized care for those with early-stage Alzheimer's and other forms of dementia. Geared toward fostering ability and independence, the Courtyard design considers safety, comfort, dietary needs, and mobility. Special programs and amenities help reduce dementia-related anxiety and enhance memory.
Also on campus is Heritage Manor, which offers skilled-nursing care as well as care for those in the later stages of Alzheimer's disease and other forms of dementia.
Providing great care requires great people, too. Our full-time medical director coordinates a team that includes on-site physicians, nurses, therapists (physical, occupational, and speech), dieticians, psychiatrists, and others.
Comfortable home with built-in amenities
Longview features a variety of home suites: standard studios, bay window or turret studios, double studios, and deluxe one-room suites. Both private and semi-private accommodations are available. Each suite includes a kitchenette, bedroom, and private bathroom with unique safety features including an emergency call system and fire-safety features. Suites offer individually controlled heat and air conditioning and complimentary telephone service, Wi-Fi, and an in-room digital communication channel.
Are you or your family member in need of added daily support? Or, are you looking for independent living with the added benefit of continuing care, should you need it? Contact Victoria Durante, CALA, Admissions Director, at vdurante@ChristianHealthNJ.org or (201) 848-4303 for assisted living. Contact The Vista at (201) 848-4200 for additional independent living information.