Looking Ahead to 2021 at The Vista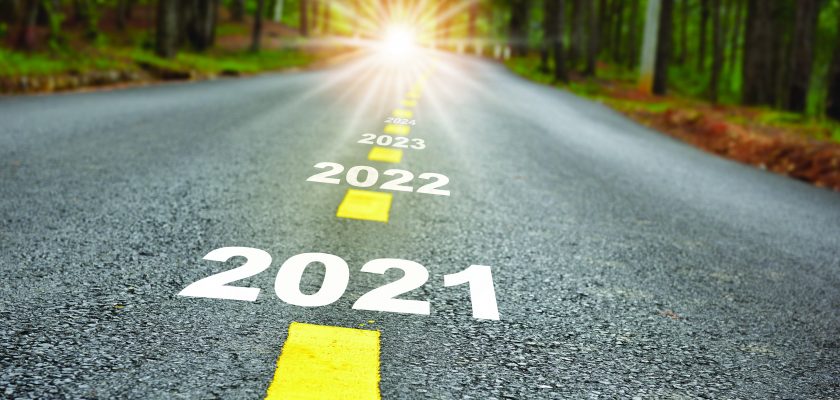 Here's what we're looking forward to in 2021
In three words: Endings and Beginnings
This will be a big year for The Vista community. And without a doubt the one thing we all look forward to is the end of the COVID-19 pandemic, or at a minimum, a return to some level of normalcy.
Beyond COVID, construction at The Vista in Wyckoff is progressing rapidly towards our spring grand opening. At that time, we look forward to welcoming nearly 200 new residents (both individuals and couples), who have chosen one of 25 different floor plans (large and small) to call home in our independent living community.
"Beyond everything else, we have a priority on the continued focus on the safety of the Vista environment with COVID-19 and making sure team members are safe," says Julie Lee, Senior Vice President and Chief Marketing & Development Officer at Christian Health. The Vista is part of and being built on the campus of Christian Health, which has served this northern New Jersey community for more than 100 years. Connected to the independent living community of The Vista is a full continuum of care with access to on-site health-care services, including assisted living, memory care, and long-term care.
Among the many things to look forward to in 2021 at The Vista:
The silver linings of COVID's impact on construction
Without question, the last year has been difficult for everyone. But people and organizations have learned to adapt and make permanent changes — and we're no exception.
Construction and design of The Vista benefitted from the clinical expertise of Christian Health team members, who are highly trained in health and safety protocols.
"With The Vista under construction and as a brand new community, we have the ability to incorporate what we have learned to build and design an even safer Vista," says Douglas A. Struyk, President & CEO of Christian Health. This includes, he notes, implementing technologies such as HVAC systems in each apartment home that bring fresh air from the outside in. HVAC for all common areas now include an ionization feature to clean the air passing through the area. Such systems are difficult to retrofit, so we're thankful to be able to add such innovations while ceilings and walls are still exposed.
Among other technologies being considered is a remote-control ultraviolet robot cleaner that acts as a complement to HVAC ionization. The cleaner can disinfect dining areas without a person needing to enter. Cleaning frequency is also being increased, using products certified to kill coronavirus. "Strict protocols will be in place at every step to ensure The Vista is as safe as the views are beautiful," Struyk says. (Built on a hill, The Vista — as its name implies — offers spectacular views of the nearby Ramapo Mountains, just a 30 minute drive away).
What makes a community a community
While safety and health is priority one, The Vista is designed for a post-COVID world that encourages active living and communal gatherings. A cultural arts center, art gallery and function space will bring performances and culture to residents, and library, classrooms and art studio will keep minds moving with new things to learn and do. Virtual experiences will still be available for those who prefer to stay at home — and who knows, as programs evolve, we may keep virtual options available even when in-person activities fully resume.
The Vista also offers impressive fitness facilities, exercise classes, and an aquatics center, all situated on 78 acres and an ideal location for outdoor lovers, whether you enjoy walking, gardening, hiking, or water activities.
Expect all kinds of day-trips, too, as Bergen County is in close proximity to the mountains, rivers, a certain big city, and much more.
New Pathways to welcome you home
Construction was completed late last year of a new intersection at Cedar Hill and Sicomac avenues, providing the new entrance for The Vista and overall Christian Health campus. In addition to widening lanes, the improvement project added the safety of a four-way, signalized intersection to accommodate for left turns into the community. The project offers both residents and visitors safer and easier entry into the campus.
For all the foods and dining experiences to come
The Vista features three dining venues. Waterstone is a full-service, fine-dining experience, while Gallery Café is a more casual option. In addition, The Windmill focuses on pub fare and take-out options. And while al fresco dining was always in the plan, with the pandemic lingering even after The Vista opens its doors and with summer just around the corner, outdoor dining is expected to be popular for the foreseeable future.
Restaurants have been reconfigured from original plans to allow for social distancing. Over time, as the Centers for Disease Control and Prevention, the New Jersey Department of Health, and industry best-practice guidance dictates, tables will shift back to normal and seating capacity will be increased. The Windmill's bar seating will be available at that time, too.
Pay a visit to our Information Center
The Vista is still accepting applications for "charter residents." Contact us to learn more, and consider scheduling a safe visit to The Vista Information Center in Wyckoff (525 Cedar Hill Avenue). Depending on your choice of contract, some or all of the services — independent living, assisted living, skilled nursing, and memory care — may be guaranteed with an initial deposit and stable monthly fee, providing predictable medical costs for continuing care residents. Contact us to learn more.